A woman went viral on Twitter for sharing a photo of a vintage chair in England that was being advertised as "not haunted."
The woman named Heather Cowan, or @hwardcowan, posted a photo of the "haunted" chair on Twitter where it received 1.2 million likes, 116,000 retweets, and 5,000 quote tweets since Wednesday afternoon. The tweet can be found here.
The viral photo showed a vintage, wingback chair that had a sign reading "definitely not haunted!" on it.
"That's definitely something a haunted chair would say.." Cowan tweeted with a photo of the chair attached.
A study published by data website YouGov in October found that more than 2 in 5 Americans believe in ghosts.
About 20 percent of individuals said they have had a personal interaction with a ghost, with Americans 30 years and younger being the most likely to report encountering a ghost.
Cowan said the chair is for sale at an Oxfam, an organization that runs various stores around the world, in Liverpool, England. Oxfam shops sell secondhand items such as clothes and furniture as well as books and music.
Sadie Cherney, a franchise owner with three resale boutiques in South Carolina, told Newsweek that while it is a popular way to shop, buyers should be cautious about resale items and thrifting.
Cherney recommended that individuals search for items that still have tags and to make sure that all the zippers are functional. She added that it is important to do research about return policies since policies vary depending on the store.
Experts also recommend making sure the buttons are intact, checking for tears or stains, and washing clothes after buying to ensure they are sanitary.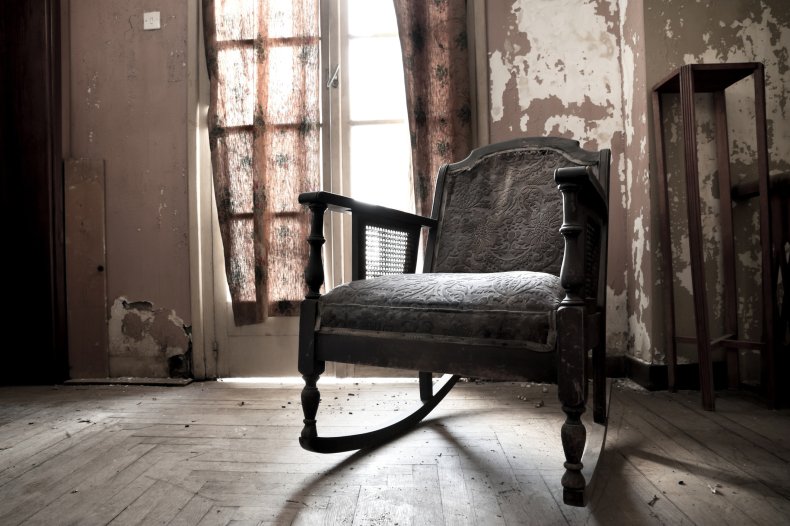 More than 4,700 users commented on Cowan's tweet, many commenting on the humor of the sign and saying that they wanted to purchase the chair.
"This is the plot of every goosebumps book," another user tweeted.
"I remember a horror movie when I was younger involving a chair like that eating people," another replied.
Another said she's had her own run-in with a haunted chair, sharing, "I bought a haunted chair once at a thrift store and I thought it to myself after a few things happened in the room it was in but I had a uncle come over and he said "hey something ain't right about that chair" that's when I said ok it's going in the dumpster—true story."
"My son and his partner bought an old church in Scotland. They are def looking for haunted furniture. It's a thing," one Twitter user replied to Cowan's tweet.
"Beautiful winged back chairs but …..they are way over there and I'm all the way up in Tennessee so I think that I will pass on those," another user wrote.
"I'd love it, but it's a bit of a way to come from Germany," another tweeted.
Newsweek reached out to Heather Cowan for comment.
This is not the first case of a person going viral for claiming an object is haunted.
One woman recently went viral for claiming her "haunted" doll collection scared off her neighbors.
Ghost hunters in England were called out to investigate a pet shop after the owner said they believed there was a ghost inside.
Another woman went viral on TikTok after she caught an alleged "ghost" reflection in a mirror in her home.


Tags: #Vintage #Chair #Sale #Viral #Hilarious #Advertising