June 1, 2022 4:47 PM

Jessica Sutherland – DOB 1979-10-24, is 42 years old. Not 45, as previously stated.
Investigators from the Saskatoon Police Service Major Crimes Section have arrested and charged a 41-year-old man in connection with the death of Megan Gallagher. Gallagher was last seen in Saskatoon in September of 2020. In January of 2021 the SPS announced it was treating the disappearance of Gallagher as a homicide investigation.
The 41-year-old Saskatoon man will be charged under Section 182 (b) of the Criminal Code – Indignity to Human Remains. He is expected to appear in Saskatoon Provincial Court on June 2, 2022. Court information # 991198288.
Police have also issued arrest warrants for three other people connected to the case.
Wanted are:
John Wayne Sanderson – DOB 1978/03/12, age 44 of the James Smith First Nation
Roderick William Sutherland – DOB 1978-02-07, age 44 yrs. – Address Unknown
Jessica Sutherland – DOB 1979-10-24, age 45 years – Address Unknown
All three are wanted under Section 182(b) CCC – Indignity to Human Remains. Their images have been attached for distribution. Their photos appear in the following order from left to right; Sanderson, Sutherland J., Sutherland R.
Major Crime investigators continue to seek information in regard to this case. Anyone with any information on the whereabouts of these three persons, or anyone with any information regarding this investigation is asked to contact the Saskatoon Police Service at 306-975-8300 or Saskatoon CrimeStoppers at 1-800-222-8477.

May 5, 2021 10:30 AM

Investigators with the Saskatoon Police Service Major Crime Section are releasing the audio of a phone call as it relates to the ongoing and active investigation into the disappearance of Megan Gallagher.

At approximately 3:30 a.m., September 21, 2020, an unidentified female used Megan's cell phone to call for a cab. This is one day after Megan was last seen alive on video surveillance at a convenience store in the 3700 block of Diefenbaker Drive. There is also an unidentified male voice that can be heard. The two individuals are calling for a cab to pick them up from the 700 block of Weldon Avenue. Investigators confirmed that they were dropped off in the 100 block of Avenue P South. Megan's phone has not been located by Police.

The recording can be found on the SPS Twitter and Facebook page.

Investigators are releasing the audio recording of the phone call in hopes of identifying the two individuals in order to speak to them further. Anyone with information on who made this call is asked to contact Saskatoon Police at 306-975-8300 or Crime Stoppers at 1-800-222-8477.
ATTACHMENT: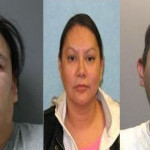 (Click to view full size)
tags: #Update #ChargedThree #Wanted #Police