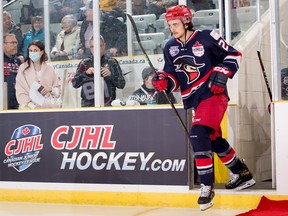 Article content
As the final buzzer sounded on the Brooks' Bandits Centennial Cup victory in Estevan, Sask. on Sunday evening, Dario Beljo was overcome with emotion.
Article content
He could hardly have known, when he departed Sudbury two years ago to join the Alberta Junior Hockey League's top squad, that he would skate such a winding road to a national championship. But as he basked in the cheers of his teammates and a crowd that included family and friends from back home, the 19-year-old centreman felt like all the effort and all the uncertainty were worth it — and then some.
"When I first came to Brooks, we like had an eight-week training camp, with no games in sight," said Beljo, reached back in southeast Alberta on Wednesday afternoon. "We all kind of showed up here and we were treating it like a hockey camp, just one day at a time, trying to get through it with all the COVID stuff. I never could have dreamed to get an opportunity to win a national championship."
He eventually saw eight games of action in a shortened 2020-21 season, without fans in attendance. It was more than many players back in Ontario, where some junior A leagues cancelled their seasons altogether, but still a far cry from the packed house that watched the Bandits' run to an AJHL title, then to Centennial Cup gold this spring.
"To get that opportunity this year, for everyone to show up and to make the most of the moment, it was super emotional, after all we've been through, to get to this point," Beljo said. "It really felt like a two-year process."
Following a celebration with parents and billets at a restaurant in Estevan, the Bandits returned home this week to be feted by their fans. Brooks held a parade in the team's honour on Tuesday.
Article content
"The whole town showed up," said Beljo, his voice hoarse from such a raucous celebration. "It was a blast.
"The team support here is unbelievable. You wouldn't believe how much the community has our back. Game 5 of the AJHL final, when we won, we had 2,500 people in the building, everyone out of their seats the whole time. Everywhere you walk around town, there's people honking, giving us hugs, thanking us, but we're the ones who should be thanking them. They really make Brooks a special place."
Article content
A product of the Nickel City and Sudbury Minor Hockey organizations, Beljo was a 10th-round pick of the OHL's London Knights in 2018. Focused at first on following the major-junior path to a hockey career, he became increasingly aware that many players enjoyed success by taking the NCAA route, sometimes through the high-level leagues in Alberta and British Columbia. 
Brooks came with a strong reputation, both as a title contender and as a producer of top-end talent for the college and pro ranks, including Colorado Avalanche star defenceman Cale Makar.
Beljo joined a team that included fellow Ontarians Ryan McAllister, a pick of the Sudbury Wolves in the OHL U18 draft, and TJ Hughes, a former rival in the Greater Ontario Junior Hockey League, both of whom were among the AJHL's top players in 2021-22.
Midway through a standout campaign of his own, which saw Beljo score 28 goals and add 29 assists in 58 games, the 6-foot-3, 190-pound local product followed his teammates' lead in committing to an NCAA Division I program at American International College. He intends to suit up there in 2023-24.
Even with a deep, talented roster and the league's best regular-season record, nothing was assured as the Bandits entered the post-season.
"We have great players, but that's not why we won," Beljo said. "You need great players, but you also need great people and that's all our coach is about, just bringing the right people. I have been here two years and I haven't met one bad dude, no one who wasn't here for all the right reasons. You just don't last here if you're not on board and you're not a good person. That's our secret ingredient to success, a great group of people in the locker room."
Article content
Beljo's contributions included playing a shutdown role during five-on-five action, while making the most of offensive opportunities on the power play. He continued to do so in the AJHL playoffs, collecting 14 points in 13 games, and at the Centennial Cup, with six points in six contests.
"Everybody who comes to Brooks was one of the best players at whatever level they were playing before they got here, but every single guy on our team found a way to bring something unique to our lineup," Beljo said. "We've got some defencemen who put up a lot of points before they came here, but we had other guys to do that, so they evolved their game to a shutdown D, stuff like that. It's amazing to see how guys can change their styles to contribute to the ultimate goal, which we have achieved now."
One of few leagues in Canada that did not take another pandemic pause after Christmas, the AJHL was set up for "a really bizarre playoff run," Beljo said, as teams had to wait two weeks after the end of their regular season while the other leagues played catchup.
Having clinched a first-round bye, Brooks swept its second-round series against Canmore, then took another three-week break before repeating the trick in a third-round set against Okotoks, needing overtime to secure one of those victories.
Article content
After yet another two-week hiatus, the Bandits faced the Spruce Grove Saints in the AJHL final. They suffered their first loss of the post-season in Game 1, by a 7-3 score, but rebounded to take the next two tilts, both 4-3 in overtime, then closed out the best-of-seven affair by scores of 4-3 and 2-0.
"The first period of every series felt like pre-season a little bit, after being off for that long," Beljo recalled. "It was tricky, trying to stay focused. Then in Game 1 of the finals, we lost at home to a really good Spruce Grove team and our top defenceman, Zach Bookman, also got hurt in that game. I think that really showed our character, when we bounced back from losing that game at home and one of our top guys to win the series in five. Spruce Grove was really good and it was the closest five-game series I have even seen in my life."
Even an undefeated run through the 10-team Centennial Cup tourney, which this year assembled league champions from across the country, wasn't exactly a cakewalk. Beljo and company found themselves trailing the Pickering Panthers in 1-0 in the championship game on Sunday, despite heavily outshooting the Ontario Junior Hockey League entry, before Aiden Fink and Devin Phillips scored just 14 seconds apart to give Brooks a lead.
Two tallies my McAllister, the AJHL MVP, sealed a 4-1 victory and the Centennial Cup title.
"Being down 1-0 with 12 minutes left in the game, to a team that has six or seven shots, it's kind of a crazy situation to be in, but we found a way," Beljo said.
He would love to be part of a repeat performance next year, even if many of the Bandits' top players have moved on to the college ranks.
"I feel like there's no rush for me," said Beljo, who is due to fly home to Sudbury on Friday. "I don't see why I wouldn't want to come back. It gives me another full year of development, where I can grow and mature my game, so I want to make the most of that time before I step in to the NCAA, so I can really be ready for it.
"There's only room for growth, so I'm really excited to come back for one more year in Brooks."
Twitter: @ben_leeson


Tags: #blast #Beljo #savours #Centennial #Cup #championship